A selection of images from Plato's Symposium published by The Folio Society
Painted on a wooden panel in mixed media with collage. Final additions made digitally.
Mixed media on a wooden panel finished in Photoshop.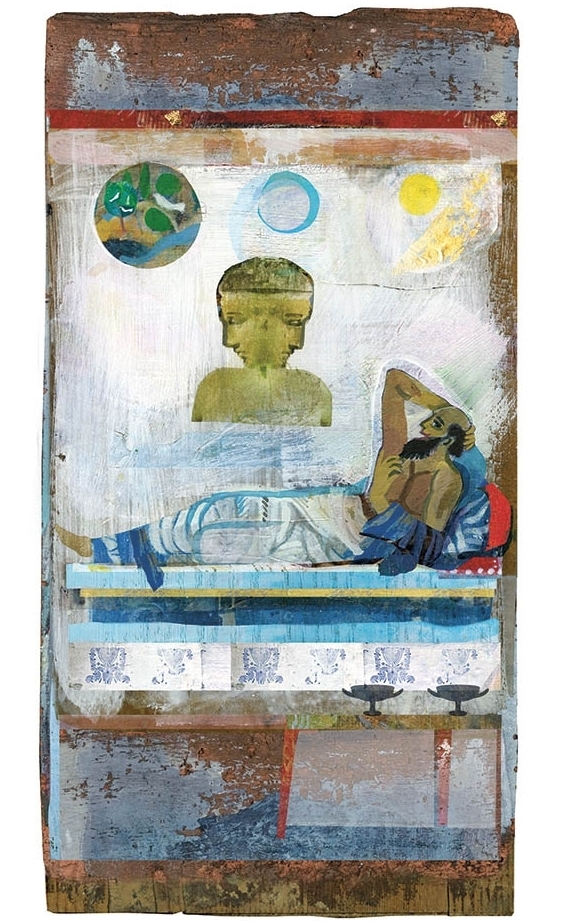 'The original parent of the male gender was the sun, while that of the female gender was the earth and that of the combined gender was the moon...'
"The object of love is not beauty, as you imagine...It is birth and procreation in a beautiful medium"
'Trivial-sounding words and phrases form his arguments' outer coating, the brutal Satyr's skin...under the surface, his arguments abound with divinity and effigies of goodness'
One of a series of paintings for 'Angels' written by Jane Williams, published by Lion Hudson. Exhibited at Lambeth Palace, London.
Mixed media: collaged & painted on wood.
Paintings from a series produced for 'Saints' published by Lion Hudson
Print, collage and gouache on wood.
Mixed media on wooden panel
Print, watercolour, gouache & gold leaf on wood.
Lino printing, gouache and gold leaf on wood.
From the series 'Mother & Child exhibited at the Bishop's Palace, Wells, UK.
Eleusa Icon: Gouache and oil on wooden panel.